What Does It Mean To Drive A Mercedes-Benz AMG® Model
Do you want to utilize the absolute pinnacle of German-engineered performance during your daily drive? AMG® badged vehicles combine only the highest quality materials, the best in automotive performance, and driver-first technologies to take the Mercedes-Benz driving experience to the highest level. AMG® started as the performance division of Mercedes-Benz, and now creates the highest quality, street-legal sedans, coupes, roadsters, and SUVs in the world. Featuring hand built engines from the most skilled craftsmen employed at the Mercedes-Benz factory in Affalterbach, Germany no two AMG® engines are alike.

Is an AMG® vehicle right for you? See the latest in Mercedes-Benz performance in the new AMG® class inventory at our dealership in Stockton, CA, and then contact a product specialist by phone at (209) 944-5511 to schedule a test drive.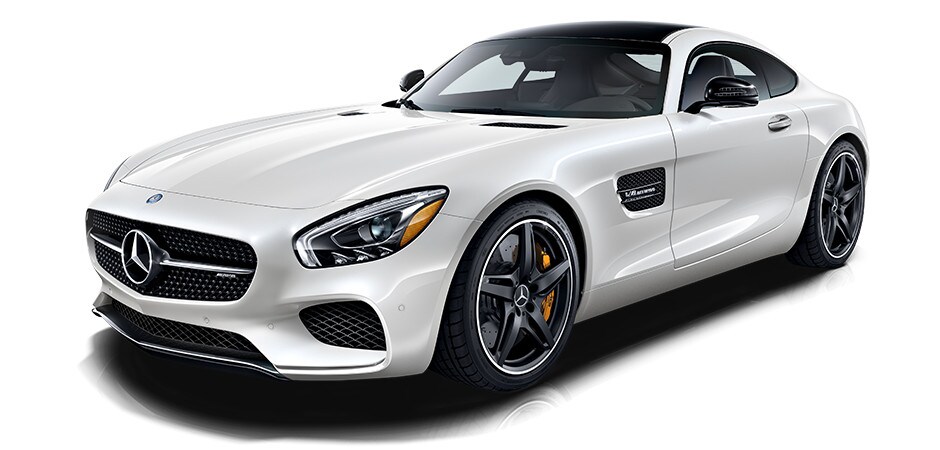 How Are AMG Models Designed?
AMG sedans, coupes, roadsters, and SUVs are engineered with specific design strategies to maximize aerodynamics, provide aggressive character, and hint at the dynamic performance hidden underneath the sculpted body. Unique design elements drivers can expect to see at our Mercedes-Benz dealership in Stockton, CA include:
Twin Power Domes on the hood of AMG® vehicles to draw the eye and focus attention on the hand-built engine underneath.
AMG models offer a wider stance to provide greater grip and drivability.
A Rear Diffuser is included to manage airflow.
Crafted AMG® cockpits put the focus on the driver with special instrumentation, a sport steering wheel, and sport seats.
The Signature Front Apron on AMG® models includes large vents to channel air to the engine.


What Are the Key Differences in Performance for AMG models?
Available with options ranging from a 2.0L four-cylinder turbocharged engine to a massively powerful 6.0L V12 biturbo with liquid-to-air intercooling technology, the AMG engine lineup is more dynamic than any other German luxury brand available in the Stockton, CA area. Key specs and availability for the I-4 turbo, 3.0L V6 biturbo, and 5.5L V8 biturbo engines are as follows.
AMG® Engine

2.0L I-4 turbo

3.0L V6 biturbo

5.5L V8 biturbo

Horsepower

375 HP

362 HP

577 HP

Torque

350 lb.-ft.

384 lb.-ft.

590 lb.-ft.

0-60 MPH Acceleration

4.1 seconds
(AMG® CLA 45)

4.6 seconds
(AMG® C 43 sedan)

3.9 seconds
(AMG® S 63 sedan)

Model Availability

AMG® CLA 45,

AMG® GLA 45

AMG® C 43 sedan,

AMG® C 43 coupe,

AMG® C 43 cabrio,

AMG® E 43 sedan,

AMG® GLC 43 SUV

AMG® GLE 43 SUV,

AMG® GLE 43 coupe,

AMG® SLC 43 roadster

AMG® E 63 S sedan,

AMG® S 63 sedan,

AMG® CLS 63 S coupe,

AMG® S 63 coupe,

AMG® GLE 63 S coupe,

AMG® E 63 S wagon

AMG® GLE 63 SUV

AMG® GLE 63 S SUV 

AMG® GLS 63 SUV

AMG® G 63 SUV

AMG® S 63 cabrio

AMG® SL 63 roadster

In addition to the engine options, AMG® coupes, roadsters, sedans, and SUVs come with several sport-tuned features specifically engineered to get the most of out of the awesomely powerful engines.
Specially tuned AMG® SPEEDSHIFT dual-clutch transmission
AMG® Performance 4MATIC all-wheel drive
AMG® DYNAMIC SELECT drive modes with four distinct performance settings
AMG® Sport Suspension
AMG® sport exhaust system
AMG® high-performance braking system
AMG® limited-slip front differential

History of AMG
Almost 50 years ago, automotive engineers Hans-Werner Aufrecht and Erhard Melcher were fine-tuning engines for Mercedes-Benz racecars, and the house that speed built was born in an old mill in Burgstall, Germany. Since then, AMG has continued to push the envelope of automotive design and performance.
In 1993, Mercedes-Benz released its first production performance model in the U.S. with the C 36 AMG.
In 2002, the supercharged "kompressor" debuts in the SL 55 with a AMG® 5.5L V8 engine.
In 2004, Mercedes-Benz releases the CL 65 AMG® with a 6.0L V12 biturbo engine capable of 603 horsepower.
In 2007, the Blacks Series AMG® models arrive in the U.S. with the CLK 63.
In 2013 AMG® debuts the most powerful four-cylinder engine ever produced with a 2.0L I-4 turbocharged engine capable of 375 HP.
In 2014, Mercedes-AMG® wins its first-ever Formula 1 constructors' championship.

Do you still have questions about AMG® models or want to add one to your driveway? Mercedes-Benz of Stockton maintains a select inventory of AMG® sedans, coupes, roadsters, and SUVs for our most discerning customers to consider. Get in touch with an AMG® product concierge at our Mercedes-Benz dealership in Stockton, CA through our contact form to experience the best that AMG® has to offer.