You Made A Difference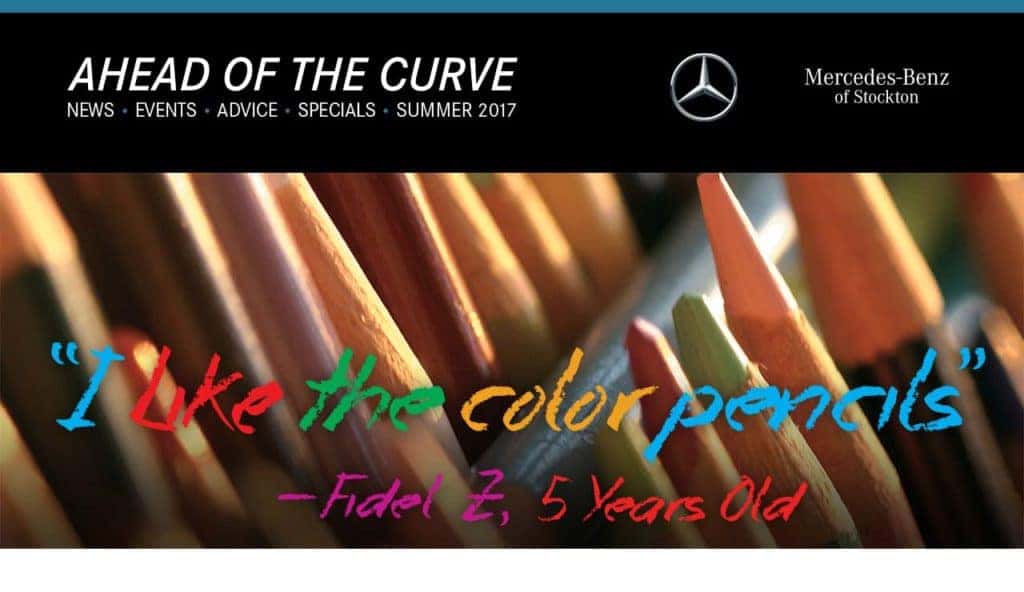 YOU Made a Difference
We'd like to extend a big thank you to all who donated to our Back-to-School Drive! Because of your kindness and generosity we put together a very special package full of back-to-school essentials — pencils, crayons, color markers, erasers, glue sticks, and more — for the students of Taylor Leadership Academy.
From all of us at Mercedes-Benz of Stockton and the students of Taylor Leadership Academy thank you for your support.
How Intelligent Drive Keeps You Safe
Intelligent Drive, the Mercedes-Benz cutting-edge suite of driving safety features available in the new C-Class, E-Class, and S-Class, is a proactive approach to collision prevention and easy driving. Here's a bit on how it works.
First comes sight. A stereo camera mounted in the windshield along with short, long, and multi-range radar sensors positioned around the vehicle work in tandem to get a 360 degree view of your surroundings.
Then comes insight. Advanced computing systems interpret what the camera and radar sensors see such as vehicles slowing down, cross traffic, pedestrians entering the road, potholes, bumps, and more.
And then, comes a response. Intelligent Drive alerts you to what it sees and responds as necessary. It has the ability to increase braking power and brake on its own. Adaptive Cruise Control automatically adjusts your speed to keep pace with highway traffic, and adaptive steering responds to the curves and bumps of the road so your ride remains comfortable and smooth.
Let us know if you have questions about your Mercedes-Benz Intelligent Drive features and we'll help you get the most out of your Mercedes-Benz experience. Now, with this month's service coupon save on high-end tires to match the safety and sophistication of your Intelligent Drive features.
Is Leasing Right for You?
If you're thinking about leasing but unsure if it's the right choice, ask yourself these three questions:
How many miles do I drive a year?
Do I drive primarily for business or pleasure?
How long do I keep cars?

If you responded — 10,000 miles or less, business, and approximately 2-3 years — then we recommend exploring your lease options. Because buying is great for people who put a lot of miles on their vehicle, for people who like owning without monthly payments, but buying isn't right for everyone. Buying, like leasing, is a lifestyle choice — know your lifestyle and you'll know what to do.

For more information on the differences between leasing and buying, just give us a call. We'll walk you through your options and help you decide what's best. And if you're ready to lease a new Mercedes-Benz, come on in. We have several great offers like this one:

Make it Mobile

Show clients what it means to travel in style with a Mercedes-Benz Prestige luxury van. Conduct on-the-go meetings from the comfort of rich leather seats surrounded by a premium wood interior, luxury flourishes and smart tech connectivity, including:

– Smart TVs, Bluetooth®, WiFi, PlayStations
– Computer stations
– Premium sound and lighting systems
– Coffee machines and beverage bars
– Onboard restrooms and showers
– Intercom to driver's compartment

All you have to do is select the options you want and we'll build your van exactly how you want it. Or, stop by the dealership and experience the Prestige luxury vans that are ready to drive home today. Whether used for business or pleasure, a Prestige luxury van brings the comfort of home and the connectivity of the office to the open road.

Experience the Prestige pleasure during the Lodi Wicked Wine Stroll. We'll be offering a free ride in a Prestige van from the dealership to downtown Lodi.